The first NEO (Amor) 2011 VP12
1st NEO discovered with the automatic telescope MOSS in the night of 15 and 16 November 2011. This is the first detection of this type of object since 10 years on the Africa continent. His estimated diameter is about 300m.
Photos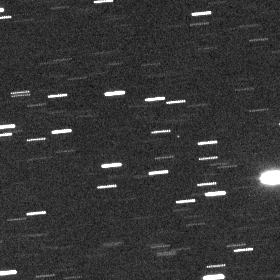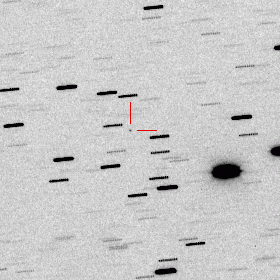 Publication
Communiqué de presse de l'Observatoire Cadi Ayyad, 21 november 2011, « Découverte d'un géocroiseur à l'Obsevatoire de l'Oukaimeden« 
Orbital parameters
The last know orbital parameters can be found on the dedicated website of the NASA JPL.
The Minor Planet Center circular
M.P.E.C. 2011-W18            Issued 2011 Nov. 18, 22:52 UT
The Minor Planet Electronic Circulars contain information on unusual minor planets and routine data on comets. They are published on behalf of Commission 20 of the International Astronomical Union by the Minor Planet Center, Smithsonian Astrophysical Observatory, Cambridge, MA 02138, U.S.A.
Prepared using the Tamkin Foundation Computer Network
MPC@CFA.HARVARD.EDU
URL http://www.cfa.harvard.edu/iau/mpc.html ISSN 1523-6714

2011 VP12
Observations:
PK08Q020  C2008 08 27.09470 01 32 40.74 +03 04 17.2   17.6 N EQ051185
K11V12P* C2011 11 15.80634 22 52 41.03 +05 22 45.4   19.1 RcEW018J43
K11V12P C2011 11 15.82047 22 52 45.90 +05 22 34.1   19.0 RcEW018J43
K11V12P C2011 11 15.83461 22 52 50.72 +05 22 25.5   19.2 RcEW018J43
K11V12P SC2011 11 17.95266 23 05 31.78 +04 58 09.1    uEW018J95
K11V12P SC2011 11 17.95790 23 05 33.71 +04 58 04.2   19.6 RuEW018J95
K11V12P C2011 11 18.14568 23 06 43.38 +04 56 10.1   19.8 VrEW018G96
K11V12P C2011 11 18.14737 23 06 43.95 +04 56 08.7   20.0 VrEW018G96
K11V12P C2011 11 18.14905 23 06 44.56 +04 56 07.8   19.9 VrEW018G96
K11V12P C2011 11 18.15080 23 06 45.18 +04 56 06.9   20.1 VrEW018G96
K11V12P KC2011 11 18.92401 23 11 29.68 +04 47 15.    uEW018J95
K11V12P KC2011 11 18.92992 23 11 31.92 +04 47 11.9    uEW018J95
K11V12P KC2011 11 18.93671 23 11 34.30 +04 47 08.0   19.8 RuEW018J95

Observer details:
G96 Mt. Lemmon Survey. Observer A. Boattini. Measurers J. D. Ahern, E. C. Beshore, A. Boattini, A. R. Gibbs, A. D. Grauer, R. E. Hill, R. A. Kowalski, S. M. Larson, R. H. McNaught. 1.5-m reflector + CCD.
J43 Oukaimeden Observatory. Observer C. Rinner. Measurer C. Rinner M. Ory. 0.5-m f/3 reflector + CCD.
J95 Great Shefford. Observer P. Birtwhistle. 0.40-m f/6.0 Schmidt-Cassegrain + CCD.

Orbital elements:
2011 VP12 Earth MOID = 0.1082 AU
Epoch 2011 Nov. 15.0 TT = JDT 2455880.5 MPC
M 1.31078 (2000.0) P Q
n 0.32974196 Peri. 159.67755 +0.78959952 -0.60038658
a 2.0750086 Node 237.86384 +0.54028267 +0.77816649
e 0.4745243 Incl. 8.60940 +0.29090761 +0.18437155
P 2.99 H 20.9 G 0.15
From 12 observations 2011 Nov. 15-18.

Ephemeris:
2011 VP12 a,e,i = 2.08, 0.47, 9 q = 1.0904
Date TT R. A. (2000) Decl. Delta r Elong. Phase V
2011 10 19 20 56 23.1 +10 23 14 0.2615 1.1209 112.1 55.5 20.3
2011 11 03 21 46 51.0 +07 48 50 0.2310 1.0942 110.3 58.2 20.0
2011 11 11 22 25 36.4 +06 18 25 0.2192 1.0904 111.7 57.5 19.9
2011 11 17 22 59 46.9 +05 09 26 0.2143 1.0925 113.6 56.0 19.8
2011 11 18 23 05 50.2 +04 58 08 0.2139 1.0932 114.0 55.7 19.8
2011 11 19 23 11 58.7 +04 46 56 0.2137 1.0941 114.4 55.4 19.8
2011 11 25 23 50 14.0 +03 44 01 0.2154 1.1018 117.0 53.0 19.7
2011 12 03 00 42 27.1 +02 39 39 0.2270 1.1183 120.5 49.4 19.8
2011 12 18 02 10 23.0 +02 04 57 0.2790 1.1664 124.9 43.8 20.1

A. U. Tomatic
(C) Copyright 2011 MPC
M.P.E.C. 2011-W18